Here you can find information about the Hjorthmusic studio facilities, se pictures of the current setup, and find out more about how it was built.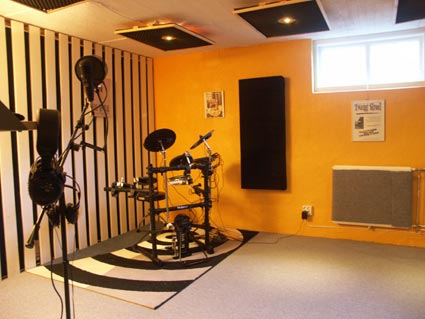 The studio at present consists of one studio room (24m2) and one control room (15m2), but plans exist for an expansion which would add a second studio room (16m2). This room would house a dedicated vocal booth, as well as an amplifier box.
The setup records up to 24 simultaneous channels of audio, as well as three channels of midi into Cubase 5. Currently there are 16 good quality microphone preamps (Focusrite, se details below), as well as two tube enhanced preamps (Presonus) that work especially well on vocals. The acoustics are suitable for acoustic instruments and vocals, but can house a live band, space being the limiting factor (hence the expansion plans). Our mobile setup can record up to 16 channels of audio and three channels of midi on location. There is a range of microphones available, our favorites being from the Oktava range. Mixing is done through a pair of Event Sp8 active studio monitors, and a pair of JPW mini monitors and Eltax Liberty 5+ (hifi speakers) are available for reference. The control room (as well as the studio itself) has been acoustically adapted to avoid resonance (as standing waves) and has a fair bit of diffusion to produce a dampened (but not dead) acoustic environment.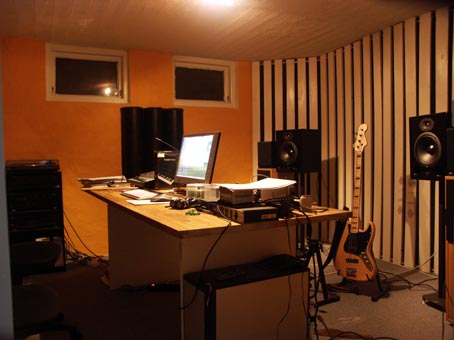 Bands and artists that have recorded here include:
Scaramanga (ska, pop, 7 piece band)
Svängrum (jazz quintet)
Ullas Amaranter (acoustic vocal group)
Lena Svensson (jazz and pop vocalist)
Marika Wittmar (rock/pop/folk vocalist)
Gunnar Hjorth
Öjebokören-kompet (rock/pop)
Smooth (jazz trio)
Caspártrion (classical guitar trio)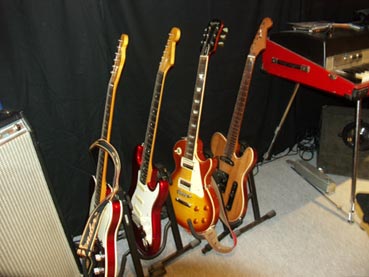 Equipment:
Microphones
2 Oktava Mk 319 (large diaphragm condenser microphones)
1 Oktava ML-52-02 (ribbon microphone)
2 Oktava Mk-012 (matched stereo pair small diaphragm condenser microphones)
1 AKG D-112 (kick drum and bass instrument dynamic microphone)
2 Shure SM-57
2 Shure SM-58
2 Adk SC-1
Instruments:
Guitars, including:
Fender Stratocaster 1961 re-issue
Fender Telcaster 1962 re-issue
Epiphone Emperor II with Semour Duncan SH-2 pickups
Epiphone Les Paul with Semour Duncan PAF-59 pickups and hexaphonic guitar to midi pickup
Lars Nielsen Telecaster (custom built guitar)
Avalon A101 jumbo steel string acoustic guitar
Ibanez 12-string guitar
Tanglewood resonator guitar
Sakurai classical concert guitar
Guitar banjo (six-string banjo with standard guitar tuning)
Other stringed instruments:
Basic violin with bow
Ibanez mandolin
Levin mandolin
Levin mandola
Stomp boxes:
A wide range including a 1982 Ibanez tube screamer, a Dunlop JH wah wah, phasers, delays, choruses, v-amp etc.
Other guitar equipment:
Terratec Axon AX100 MK2 guitar to midi system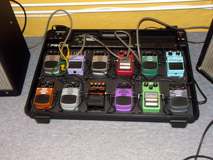 Basses:
Squire vintage modified jazz bass
Kasuga jazz bass (lawsuit era Japanese bass)
Keyboards:
Kurzweil PC-88 digital piano
Fender Rhodes mark I
Malmsjö upright piano (1935, not in the studio room but connectible to the session via cables)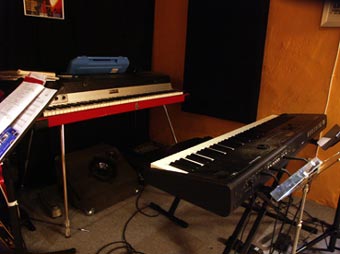 Drums:
Roland TD-6 kw digital drums
Percussion:
A pair of congas
A set of bongos
Schlagwerk cajon
Lp soft shake (shaker)
Rythmtech Cabasa
Tambourine, claves, triangle etc.
Amplifiers:
Fender Bassman ten (1972 all tube combo, mint condition, 4x10 closed cabinet)
Fender Blues Junior (small 15 watt tube amplifier)
Crate G40C-XL (solid state stereo guitar amplifier)
Recording interfaces/preamps:
Focusrite Saffire pro 26 i/o
Focusrite Octopro Mk II
Presonus Firestation
Software:
Cubase 5
Wavelab 6 studio
Superior Drummer
EZ-drummer (with several expansion packs)
Pianoteq III
An assortment of virtual instruments, amp simulators and good quality effects.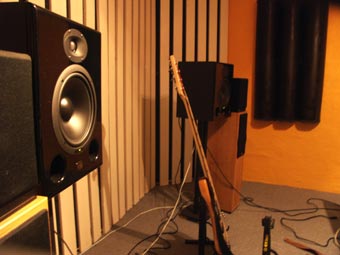 Monitoring:
Event Sp8 active studio monitors
JPW mini monitors
Eltax Liberty 5+ (hifi speakers, for reference)
Sennheiser HD 650 (open high quality headphones)
Eight channels of headphone monitoring with individual volume in the studio, and an assortment of closed headphones (AKG:s etc.).
Reel to reel:
Sony Tc-270 (1/4" stereo deck)
There is also a library of reference cd:s and a hifi setup with cd-player, turntable and a cassette deck.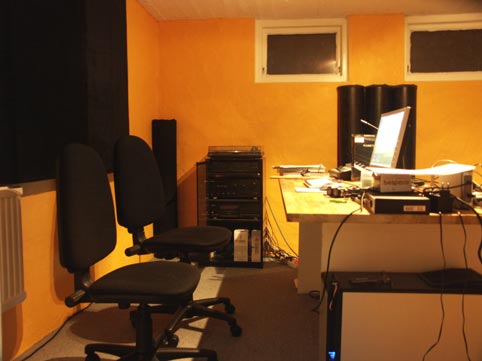 If you are in the process of setting up your own recording studio, there are some photos of how studio Hjorthmusic was built...
At first there were just two empty rooms full of rubble, and there was a fair bit of renovation to be done.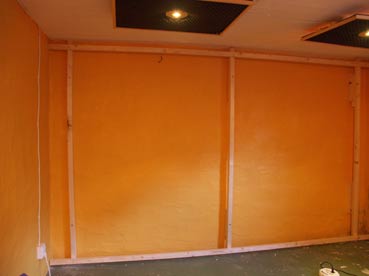 New electrics, low voltage lighting, and tube absorbents (to collect bass resonating in the corners of a room).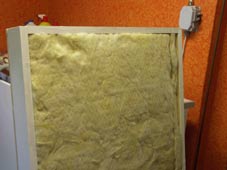 Diffusers and absorbents.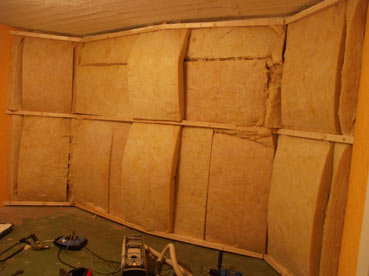 A dampening wall at a slight angle, to get rid of some standing waves in the studio. The standing planks maintains some early reflections to avoid a dead feel to the acoustics.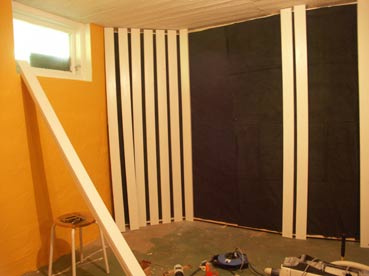 Another dampening wall, this time in the control room. This one has some angles in it, for more diffusion.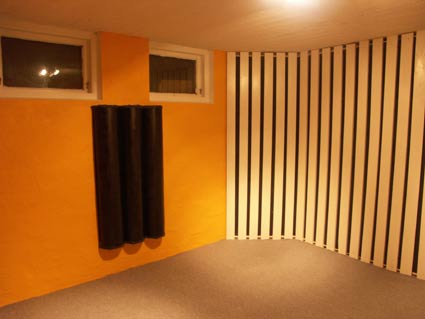 More dampening, to make one wall as acoustically dead as possible.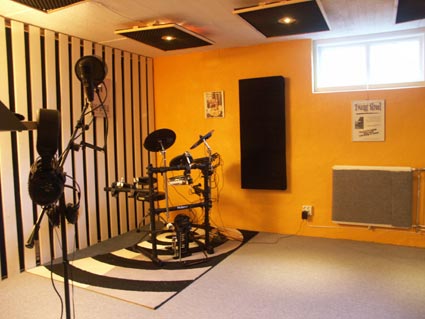 Finally everything comes together, time to start working!