Gunnar is a Swedish musician, composer, producer and teacher. He works mainly in his local area around Örebro, Sweden, although he spent a few years in the UK in the nineties, and still feels a strong connection to the British isles.
-1991
In his early years Gunnar was immediately fascinated by the guitar, and started receiving lessons on the classical guitar for a brief period when he was five years old. During his school years this interest grew into a passion, and he started performing regularly from the age of twelve. He was no stranger to playing in churches, at political gatherings, in libraries and schools, usually arriving on his pedal bike with his classical guitar on his back. At the age of sixteen he auditioned for and was accepted to the DeGeerskolans musikgymnasium in Norrköping, Sweden, where he spent three productive years practicing the guitar and widening his musical views. During these years he performed occasionally as a singer/songwriter at local pubs, as part of the group "The acoustic trio", and started playing electric guitar as well as classical. In the summer of -91 he did his first solo tour as a classical guitarist playing at various churches in the area around Norrköping.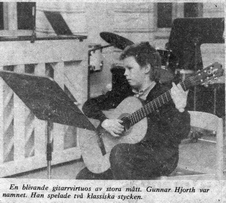 1991-1995
After graduating from college Gunnar was accepted to the Conservatory of Music in Örebro, Sweden. There he received a Master of fine Arts in music education in 1995. In the spring of -92 he was one of the founding members of the avant garde folk/rock/fusion-group Farbror Bånges Kapell, a group that achieved moderate local success during 93-95, performing at music festivals, pubs and for local radio and TV-stations. He also contributed to the bands repertoire, and sang lead on some of the songs. That band had a huge impact on Gunnar, and sparked an interest in improvisation and composing. During these years Gunnar also found himself drawn to the world of theatre, and started working as a theater musician. -93-95 and 97-98 he was the regular electric guitarist for the theater group ComedieCompagniet in Örebro, playing hundreds of shows. He also had a go at the banjo, performing with a local group called "David Södergren hot five" during -94 and -95, also on national television in Sweden. In late -94 he hooked up with two fellow students of the classical guitar at the Conservatoir, forming the classical guitar trio "Caspártrion", who toured extensively during the summer of -95. He was also a founding member of the Cover Rock group "Regnrock" (later "Absent friends"). In -95 he found himself running between different stages at an outdoor music festival to try and keep up with all his various band performing, and on several occasions racing on his motorbike between gigs with different constellations in the same evening.
1995-1997
In the spring of -95 Gunnar applied as a post grad to the Birmingham Conservatoir, UK, where he spent two years studying the classical guitar with Simon Dinnigan. He played in a heavy rock band called "Death dumb and blond", and took jazz guitar lessons from a fellow student. He performed as a classical guitarist at local guitar societies in the Midlands, and made a brief solo tour in Scotland. And he left a big chunk of his heart in the UK.

1997-2009
After returning to Sweden (and switching back from tea to coffee) Gunnar started working more extensively with the electric guitar. He became a member of the house band at Grythyttans Gästgifveri, a renowned resort hotel/gourmet restaurant in Sweden, playing with a jazz trio for over two years, while performing occasionally with the classical guitar. He also returned as a member of Absent friends, and started writing music on a regular basis. In -04 he was the band leader and musical arranger on a production of the musical Man of La Mancha by Lyset, returning again in -06 as a composer, arranger and band leader on a production of The Wizard of Oz. In -08 he was musical director on Teater Nolbys production of "Haren och vråken" by Swedish author Lars Forsell, and in -09 he was the composer, band leader and musical director on Körsbärsträdgården by Chechov (also with Teater Nolby). He also wrote music and produced the recordings for Nils Holgersson (länsteatern) and the nordic premiere of Arnold Weskers the Groupie (Teater Nolby). December -09 saw the release of Gunnars solo album Think Tank on the Hjorthmusic label, and a stint of Christmas concerts around Värmland, Sweden, together with three friends.